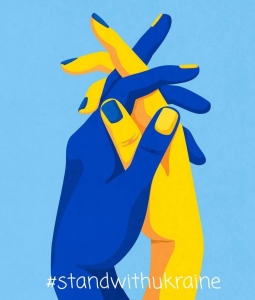 As we watch the horrors unfold in Ukraine, it is understandable that we feel powerless to help. We have contributed financially to support Cry in the Dark as they opened Casa Albert to provide safety & shelter to refugees who have fled their country in fear [see their Facebook page for regular updates]. We have held a morning of prayer, prayed regularly together as we've gathered, and produced a resource sheet to help us to pray when words fail us. But our prayers for the Lord to intervene and bring repentance to Putin, an end to the fighting and a withdrawal of troops have not yet been answered.
But our responsibility doesn't end with crying out to God. What does the Lord require of us?
"To act justly and to love mercy, and to walk humbly with your God." Micah 6:9
I can't begin to contemplate what it must have been like to have your country, city and home attacked. I can't begin to contemplate my family being split up, and waving goodbye to those who are fleeing whilst I'm expected to stay and fight. I can't begin to contemplate the desperate journeys families have made across borders and across the continent carrying a single bag of possessions. But I know how I would want people to respond to me if I was in such hopeless circumstances.
Over the last three weeks there have been repeated calls for the Government to do more to welcome Ukrainian Refugees into the UK, with just 3000 having been accepted so far because they have family members already in the UK. Today the Government will formally announce the 'Homes for Ukraine' initiative which will allow individuals, organisations, churches & communities to 'sponsor' refugees, and it is anticipated that there will be over 100,000 welcomed through the scheme.
Dr Krish Kandiah has been leading a rapid response initiative through the Sanctuary Foundation to lobby Government, find sponsors and connect them with Refugees. There have already been 11,500 pledges of support from organisations, churches, communities and individuals who are willing to offer a welcome to families, finding or offering accommodation, raising funds to support families, befriending them and helping them integrate into the community. Last Monday, when I first heard about the Sanctuary Foundation and their initiative, after a very quick prayer, I pledged the support of RBC.
What does it mean to 'Stand with Ukraine'?
Yesterday I heard someone describe Rayleigh Baptist as 'an extraordinarily caring family'. That has certaintly been my experience of the Church family at RBC, and I could share many stories which prove that to be true. It is also said frequently that at RBC we are incredibly welcoming to visitors/first-timers. But what would it look like to extend the 'Sunday morning welcome' to refugees arriving in Rayleigh?
The following are ideas about how we might to support refugee families:
offering accommodation (a spare room, a property)
donating or raising funds to help support families

similar schemes have previously estimated £1000-£9000 per family

supporting those providing accommodation

shopping
preparing/cooking meals
providing bedding/clothes/equipment

supporting refugees directly

befriending families
organising activities for them
helping them learn English (and helping others learn Ukrainian!)
assisting them as they register for school places, healthcare
helping them find work
providing educational support
This is not an exhaustive list, and as you read it I have every confidence that you will have been prompted with other ideas which haven't even occured to me. I'm sure you'll have many questions too, which will no doubt be answered as the details of the scheme are clarified over the next week. Two of the key questions I've been pondering this week for us as a Church family:
how many families could we realistically support at RBC? [or in partnership with other Churches, and with the support of the whole town]
what are we prepared to give up to support those in need?
Please pray and ask God what it looks like for you to act justly, love mercy and walk humbly in this extraordinary time. What part is God asking you to play & what is He asking you to sacrifice to make it happen? What gifts has God blessed you with and how can you use them to be a blessing to others? Please discuss these in your family, in your Life Groups and with your friends.
In the meantime, below are some links which provide some more information:
"It is the obligation of every person born in a safer room
to open the door when someone in danger knocks."
Dina Nayeri